I hope you have had fun with all my Happy at Home games and activities. Do you feel happier staying home when you can enjoy these games with your family? As much as I like my friends Sid and Daisy and all the rest of the DDD gang, I know that the cars that will always be there for me are my family. Mum and Dad always set me straight and support me no matter how much I mess up. Uncle Diesel and Grandfather Dizzy have so many cool things to tell me that I will never get enough of their Magic Book and secrets.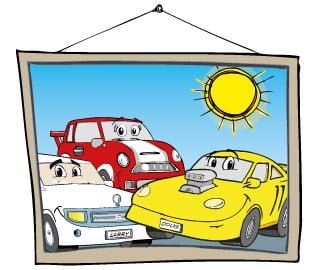 What have your parents and family members done for you this week, last month, since this safe-at-home situation started? Have you sat down and discussed what it all means, and how important it is to stay safe, follow the suggestions of the authorities and think about the impact all this has on our world? Maybe it is time to really explore all the consequences our choice of behaviours can influence. Before we meet again, I hope you will follow the open roads, accept the advice of those in authority, respect the health and safety of everyone, and encourage all your friends to have a serious discussion with their family members. What we choose to do now, today and tomorrow, can and will affect the health of all of us. It's like the butterfly's wings effect, The flap of the butterflies wings may not seem to move much air, but the flapping of a butterfly's wings could create tiny changes in the atmosphere that lead to violent weather conditions elsewhere on the planet.
The same is true for our behaviour choices. What we choose to do and how we proceed in our daily lives, can have a healing or hurtful impact on others around the world. I hope you will listen to your family, that you support and encourage healthy behaviour, wash your hands regularly, wear a mask in public, and stay safe at home as much as possible. Let's all choose to be healthier and happier in the future. Your friend, Doug.