Get out the tent and sleeping bags for a backyard camping trip. Kids love this idea, and you may find that it becomes a regular activity. Backyard camping gives you the best of both worlds – you get to make tell spooky stories and stargaze — all without having to dig a hole just to go to the bathroom. And if it rains in the middle of the night, a safe, dry haven is close by.
The preparation can be fun. Get the kids to pack and bring everything they would need for a real overnight camping trip. This means sleeping bags, pjs, a change of clothes, their favourite teddy or toy, books and a torch.
Ask the kids to help set up the campsite and be involved in making sure all the supplies are handy.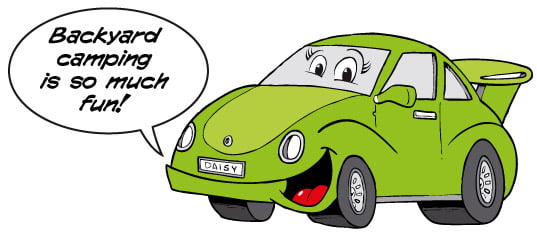 Here's a fun activity to do while backyard camping:
Nature Rubbing: Pack some paper and crayons to make nature rubbings. Pick an interesting leaf, lay it down on a flat surface like the driveway, put a piece of white paper over it, turn your crayon lengthwise, and rub over the leaf. Or press leaves and flowers into a book as mementos of your backyard camping adventure.