43. Doug's Scavenger Hunt
Scavenger hunts build problem-solving skills, teach teamwork, and they're easy to customize to your child's age. Start by writing down clues customised to your outdoor environment or use some of these suggested clues (answers below):
I'm a friend to parents who like things neat.
They really like it when you wipe your feet.
On me, you can speed like a bird in the sky.
My two wheels will make you fly!
I have a ring, but you can't wear it.
Sometimes so loud that you can't bear it.
Some people think I'm nasty and yuck,
But without me for your rubbish, you'd be out of luck!
I might be filled by male or female.
Whichever it is, I'm still the mail.
Use me to give thirsty plants a drink.
Or use me to clean your car, fast as a wink.
Turn me to the left, and you just might get wet.
I'm great for giving a drink to your pet.
I make lots of smoke when I get hot.
I make yummy food that you'll like a lot.
I make your job a little less hard.
I move dirt and other stuff around the yard.
Climbing me can be quite a lark.
I'm not a dog, but I do have a bark.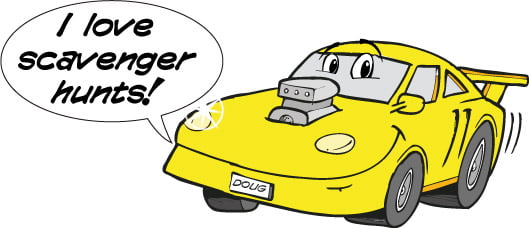 Doormat 2. Bicycle 3. Doorbell. 4. Rubbish bin. 5. Letterbox 6. Hose. 7. Garden tap. 8. BBQ. 9. Wheelbarrow 10. Tree